Jersey Shore
Jersey Shore fans call out Mike 'The Situation' Sorrentino for his treatment of Angelina on Family Vacation
Mike "The Situation" Sorrentino and several castmates received backlash after their on-screen behavior in a recent Jersey Shore: Family Vacation episode didn't sit well with viewers.
Part of the episode featured Mike and his wife Lauren hosting a soft opening of Bijoux, Lauren's boutique in Jersey.
Mike was disappointed when his wife told him on the car ride there that several of his castmates couldn't make it. He mentioned a phrase he now lives by is "We show up," and he's always there for his friends.
While all his castmates were invited to the event, only Angelina Pivarnick showed up, and Mike said he "appreciated [her] showing up despite a lot of drama going on in her life."
After Angelina arrived, she asked Mike and Lauren about her other castmates not being there for the boutique's soft opening.
Angelina told Mike outside the boutique, "We all should be supporting each other," but her castmate said he had "to take the high road" in the matter.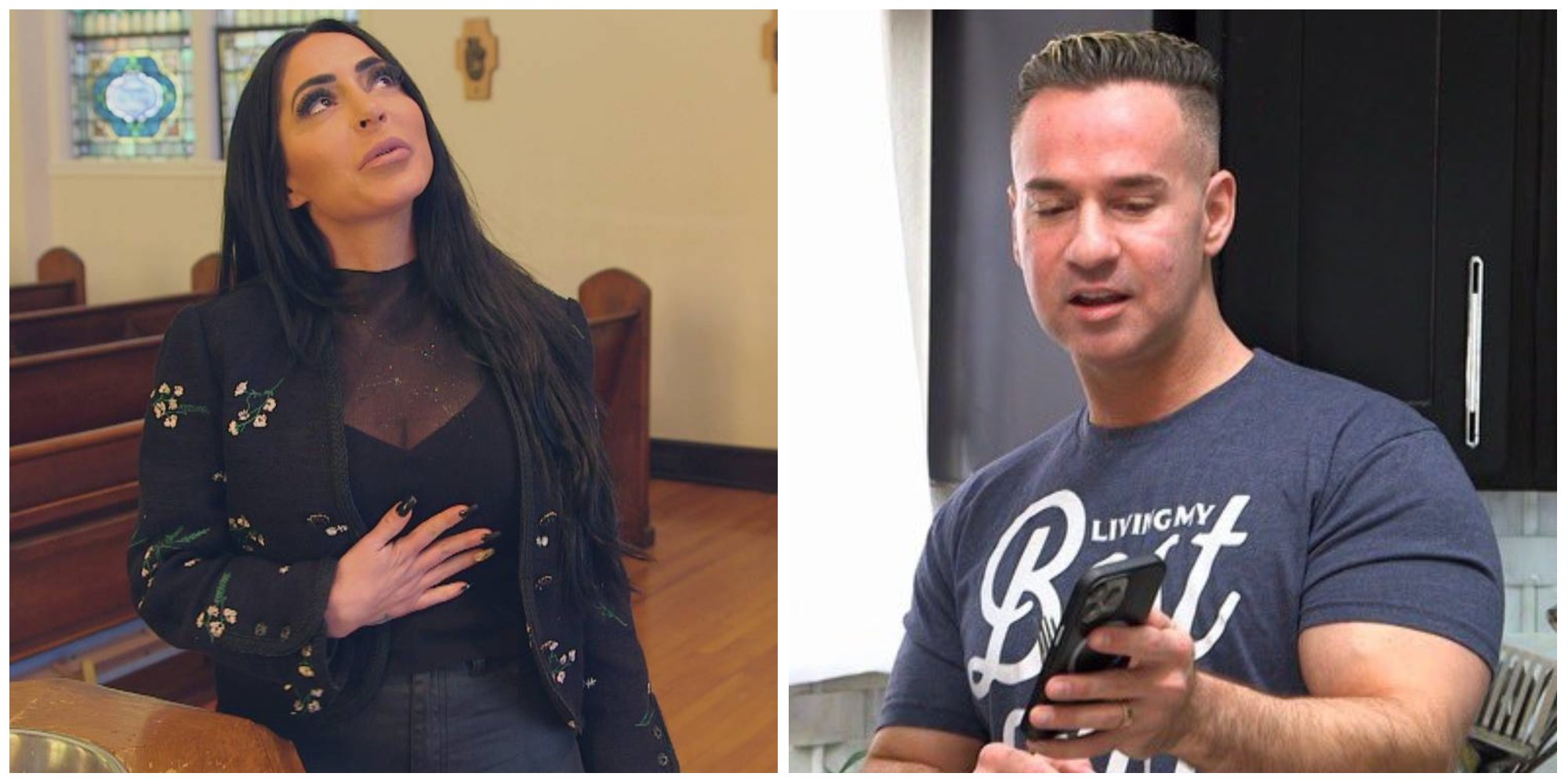 The Situation stirred up drama with Angelina and castmates
"I'm not trying to start s**t. I'm being real," Angelina said to her castmate, adding, "Please don't go back and be like Angelina's starting s**t."
Angelina threw in that Jenni "JWoww" Farley lived right down the road from where the boutique is located, but Mike said he gave her "credit" since she's raising two kids.
Mike told Angelina he wouldn't tell her castmates she was starting things. Angelina admitted in a confessional that she "calls s**t out," and that's why she tends to have drama with "the girls" from the JS cast.
Later on, the JS women attended a charcuterie party that Nicole "Snooki" Polizzi hosted at her home. Angelina hadn't arrived, giving her castmates time to talk.
JWoww relayed to Deena Cortese, Sammi Sweetheart, and Snooki that she'd been at Mike's house the day before. She said he brought up how Angelina made Lauren's boutique event all about everyone else not attending.
After JWoww told the rest of the group what Mike had said to her earlier, it caused drama when Angelina arrived at the party. The ladies called out Angelina, saying they weren't interested in being her friend anymore. Angelina later called Mike, who said he hadn't started anything.
However, Mike's wife Lauren even suggested he might apologize to Angelina for what happened.
Fans blast The Situation after Family Vacation episode
Later on, fans took to X, formerly known as Twitter, to blast Mike and several of his castmates after what they saw go down with Angelina during Family Vacation.
One commenter said JWoww telling Angelina that nobody wanted her at the party was "mean girl s**t" and that "Once again Mike gets off squeaky clean."
"Sorry but @ItsTheSituation you're a back stabber. You told @angelinamtvjs not to say anything to the girls yet you ran right to @JENNIWOWW knowing she would come at Angelina," another commenter said.
Another individual said Mike is "still the same snitch and s**t stirrer from season 1" after watching him throw Angelina "under the bus."
"I feel bad that Angelina always gets ganged up on," the viewer wrote.
'The Investigation' promised to help Angelina during JS episode
Not everything that transpired between Angelina and Mike's earlier conversation seemed terrible. While speaking with his castmate outside the boutique, he offered his assistance in helping her find out who her real father was.
The previous episode had featured Angelina discovering a shocking truth after taking a DNA test, which led her to realize the man who'd said he was her father all these years wasn't. Her and her sister's DNA tests revealed they had the same mother but different dads.
Mike offered to bring back "The Investigation" to help Angelina, mentioning he has a friend named "Keto Guido" who could assist.
tonight, @itsthesituation has his eyes set on his next case! 🕵️‍♂️ don't miss a new #JSFamilyVacation at 8/7c on @MTV! pic.twitter.com/ziF1Vl23Qe

— Jersey Shore (@JerseyShore) September 14, 2023
The discovery Angelina made during that previous episode led her to share an emotional message on social media in which she opened up about the pain of learning part of her identity was a lie for many years.
Mike's vowing to help could be a positive step toward Angelina gaining valuable insight into her family situation. However, many Family Vacation viewers hope Mike gets called out for how he treated Angelina with her castmates.